Cary Manufacturing Super Vac Demonstration
Check out the Fuji Electric Catalog for Ring Compressors and Vacuum Pumps
The video above was recorded at our plant, and is a six minute demonstration of the capability of the 10 HP Cary Super Vac. The elements of the video are:
A side view of the Super Vac.
The three rubber clamps are undone.
The lid is removed.
A disposable, reusable Cerex bag is put in the 55 gallon receiver.
The lid is replaced - this lid has a swivel elbow.
A different lid that is attached to a header system is put on the receiver.
15' of 3" vinyl vacuum hose to a PVC elbow to 25 feet of PVC pipe (supported by pipe hangars) to 3" x 2" PVC wyes to two 12 foot 2" wire supported hoses to PVC nozzles.
A different view of the same header system.
A table of foam rubber, felt, and plastic film waste.
The waste being vacuumed with two nozzles.
One hose being capped and other hose vacuuming the same type of waste.
One hose capped and the other vacuuming typical cotton textile waste.
With the lid removed, the Cerex bag is removed for emptying.
From the potential contamination of a product to the dangers of possible health hazards, industrial waste presents a formidable enemy in the battle to produce quality goods and services. Tons of product on the line may have to be scrapped.
Your company may have to defend itself against a lawsuit from an injured employee. The EPA may have to intervene because of personal safety violations. A vital machine may have to be completely torn down, cleaned, and reassembled. Faulty products may find their way into the marketplace creating all types of problems that may take years to correct.... all of these potential disasters can be caused by a bit of waste in the wrong place at the wrong time.
Fortunately, manufacturers can arm themselves with a wide variety of weapons to aid the war against industrial waste. Cary Manufacturing provides a full line of products geared to the removal of waste in various critical areas of the production process.
One such product is the Cary Vac, an industry proven, front-line defense in waste removal. The Cary Vac line of industrial vacuum cleaners includes a variety of hi-performance, industrial vacs in a range of sizes designed to fit your particular needs.
Through the constant monitoring of industry waste removal requirements, Cary has carefully engineered the most sought after features into an integrated, low-cost system.
Cary Saw Vac with Cyclone Lid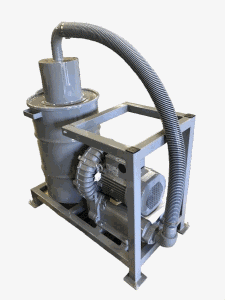 View Saw Vac Brochure
The Cary Saw Vac is designed to provide years of trouble-free service and continuous duty in industrial applications. It is a stationary unit for medium to heavy density waste associated with saws, routers and other cutting and trimming machines.
The Cary Saw Vac is designed with a Cyclonic Lid that strips away the waste using an internal baffle that allows it to drop into a 30-gallon collection drum. The Cyclonic Lid also employs a pleated filter to prevent lighter, floating materials from re-entering the regenerative blower creating the vacuum pull. The system can be used to pick-up sawdust & wood chips, metal chips, plastic chips, and dense powders & dirt, including slightly oily materials.
The Cary Saw Vac comes in three versions, 5 HP, 10.7 HP and 14.7 HP. Each version is mounted on a heavy-duty, welded steel frame with easily removed 30-gallon collection drum for dumping & disposal of waste. The 30-gallon collection drum comes with reinforced lifting handles on the sides to ensure secure grip by operator when removing from stand. Standard unit can be wired directly to power source, or an optional magnetic motor starter can be added and mounted to frame. Each version is custom-made with a choice of several inlet sizes available depending on customer application.
| Model Number | SAWVAC-901 | SAWVAC-801 | SAW VAC-601 |
| --- | --- | --- | --- |
| Motor Horsepower | 14.7 HP | 10.7 HP | 5.0 HP |
| Sealed Water Lift | 110 inch H2O | 112 inch H2O | 95 inch H2O |
| Waste Capacity, Cu.Ft. | 4.3 | 4.3 | 4.3 |
| Magnetic Motor Starter | Optional Add-on | Optional Add-on | Optional Add-on |
| Voltage | 230/460/575 | 230/460/575 | 230/460/575 |
| Phase | 3 | 3 | 3 |
| Frequency | 60 | 60 | 60 |
| Weight (lbs.) | 450 | 350 | 250 |
Aspirator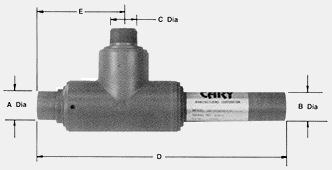 View Aspirator Brochure
Features
Low Initial Cost
Quiet Operation
Compact Construction
Greatly reduced power consumption when compared with traditional plant air
Versatile mounting requirements
A plague is sweeping your production floor. The plague concerns the buildup of production waste. It can unnecessarily tie up expensive personnel while they perform the task of waste removal. It can contaminate your quality product. The plague can zap the energy and strength from your operation and interfere with your corporation's ability to deliver quality, cost-competitive, and timely product.
The Cary Aspirator System can be a major part of the cure for the plague. The Cary Aspirator enables manufacturers to perform in-process cleaning of lightweight scrap materials encountered in the production process.
Designed for use with an efficient, high volume, low pressure ring compressor (such as those supplied by Cary Manufacturing), the Cary Aspirator creates an effective method for the disposal of light weight materials such as textile trim, paper, film, dust, and a variety of other materials. The aspirator then conveys the materials with high volume, high velocity air to a container located away from the production process. The result is a cure for the plague with minimal initial cost, and minimal system maintenance.
Other Cary Manufacturing products and services include: a line of portable dry vac systems, selvage/trim removal, centralized vacuum systems, customized material transfer equipment, electrical start-stop stations, SS and aluminum air knives, custom and standard in-process waste removal equipment.
Cary Manufacturing is at your service to provide your corporation with the necessary applications engineering to satisfy your process needs. Whether you choose our standard product offerings or a custom waste disposal/material transfer system, Cary dedicates all products and services to providing your organization with the most efficient and cost effective method of waste disposal or material transfer.
Model No.
A Hose
A Pipe
B Hse P*
C
D**
E**
CA 1
1-1/4
1
1-1/2
1-1/2
11
4
CA 1-1/4
1-1/2
1-1/4
2
1-1/2
14
5-1/2
CA 1-1/2
2
1-1/2
2-1/2
1-1/2
16
6
CA 2
2-1/2
2
3
1-1/2, 2
19
6
CA 3
3-1/2
3
4
2-1/2, 2
27
9

*Hose or Pipe
**Dimensions D & E are approximate
Cyclo-Separator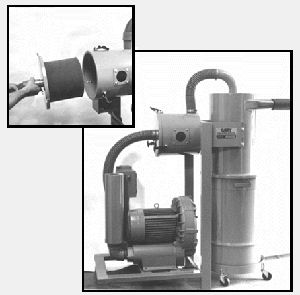 View Cyclo Brochure
The Cary Cyclo-Separator/Filtered Vac System was designed for industrial and commercial applications requiring powerful and efficient cleanup of dirt and/or heavy materials. The Cyclo-Separator removes most dirt, dust, or other materials and drops them into a 30 gallon receiver that is mounted on a drum dolly for ease of dumping. Both portable and stationary systems (as shown) are available.
Any carry-over dust is filtered by a highly efficient pleated filter element. The standard filter element filtration is 99% @ 10 micron. A 4 micron or HEPA filter is available .
| | | |
| --- | --- | --- |
| Description | CS / FV600 | CS / FV800 |
| Motor Horsepower | 4.5 HP | 10 HP |
| Maximum Suction | 100 inches H2O | 110 inches H2O |
| Maximum Airflow | 195 CFM | 370 CFM |
| Vac Relief Valve Set | Yes | Yes |
| Mag. Motor Starter | Yes | Yes |
| Waste Capacity, Cu. Ft. | 30 Gal. | 30 Gal. |
| Full Load Watts | 2.6 kW | 6.4 kW |
| Voltage | 230 / 460 / 575 V | 230 / 460 / 575 V |
| Phase | 3 | 3 |
| Frequency | 60 | 60 |
| Weight (lb.) | 290 | 525 |
| Dimensions (LxWxH) | 56" x 24" x 66" | 56" x 24" x 66" |
Dornier Loom Vacuum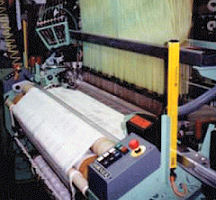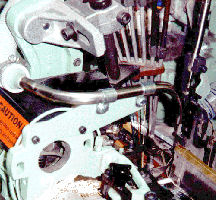 View Dornier Brochure
The CARY System utilizes the vacuum and exhaust air of a 1 HP regenerative blower to concentrate vacuum and exhaust air to specific areas of the loom that cause problems when lint and fly accumulate.
The four (4) nozzles used are:
Eltex Guide Blow-Off Nozzle to prevent buildup of lint in the eyelets.
Selector Finger Suction Nozzle collects fly generated by fill yarn passing through finger guides.
Rapier Opening Area Blow-Off Nozzle blows air into this area and helps prevent rapier problems, as well as migration of fly to the fabric.
Right Hand Side Tail Suction Nozzle removes lint, but also controls tails with suction tension and prevents loop-backs of the tail.
Matrix Removal System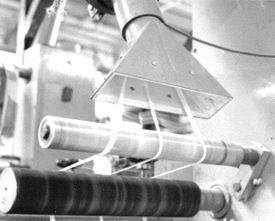 View Matrix Removal System Brochure
Features
Simple, reliable, trouble-free design
Easy installation by customer personnel
Mounting bracket and clamps included
Lube system for pressure-sensitive stock
Regenerative blower for air & vacuum
Muffler, filter, flow valve and safety valve
The Matrix Removal System reduces waste and increases productivity of narrow web label and converting presses by eliminating costly press stops for waste roll removal and by reducing tension-related matrix breaks during the run.
Operation
The aspirator is mounted on the matrix rewind shaft of the press and aligned with the matrix as it leaves the stripping roller.
The ring compressor generates strong airflow which is diverted in the aspirator to create powerful suction on the inlet side and a high-velocity air stream on the outlet side. As the pressure-sensitive matrix is pulled into the aspirator, it collapses and sticks to itself to form a rope of material which can travel easily through discharge tubing to an accumulating area or compactor.
The lubricant system (standard) assures that the matrix will not stick even if the compressor is shut off while the matrix is still in the discharge tubing. It consists of a storage reservoir, feed tube, drip regulator, site glass, and shutoff valve. This gravity-operated system feeds a controlled amount of vegetable oil to the aspirator where the fast-moving airflow disburses it, creating a slick coating throughout the entire system.
General Specifications

Model No.
Web Width
Speed
Application
MR250
up to 10"
500 fpm
p-s matrix / trim
MR300
10" - 16"
500 fpm
p-s matrix / trim
MR400
16" - 20"
500 fpm
p-s matrix / trim
Aspirator Specifications

Model No.
Inlet
Outlet
Nozzle
Length
Liner
MR250
2.5"
3.0"
2.5" x 7"
28"
Teflon
MR300
3.0"
4.0"
3" x 11"
33"
Teflon
MR400
4.0"
5.0"
4" x 11"
36"
Teflon
Blower Specifications

Model No.
HP
Vacuum
Airflow
Volts
Amps
MR250
4.5
98
206
230 / 460
12 / 6
MR300
10
110
388
230 / 460
23 / 12
MR400
20
110
570
230 / 460
44 / 22
Vacuum is in inches of H2O. All voltages are 3 phase 60 Hz.
Super Vac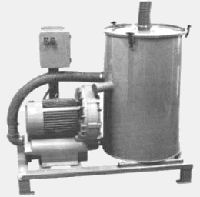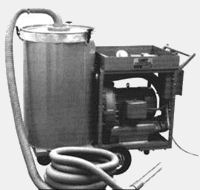 View Super Vac Brochure
Features
High Capacity, 7.9 Cu. Ft.
Stationary and Portable Configurations
No Maintenance Required
Low Noise, High Air Flow and Suction
Highly Reliable Fuji Regenerative Blower
The Cary Super Vac System is designed to provide years of trouble-free service and continuous duty in industrial applications. Two versions are available, the portable unit which is mobile and can be moved to any location and the stationary unit for central vacuum headers or limited area cleanups.
The Cary Super Vac Systems were designed and developed for efficient cleanup and removal of lightweight waste. The systems have been used to pickup and clean areas of: textile waste, fibers and lint, fiberglass, crumbs, cereals, sawdust and wood chips, including dust and dirt.
The vacuum receiver filtration is accomplished by a canton flannel (cotton flannel on canvas) filter bag with a filtration area of 2400 sq. inches. The filter bag is clamped into the receiver and is supported by a perforated cylinder. Disposable/reusable bags also provide filtration and are placed inside the canton flannel filter bag. The vacuum receivers are "top-loading." The waste products are collected in 10 mil Cerex disposable/reusable bags. The bags are lifted up and out to empty.
| | | |
| --- | --- | --- |
| Description | CV600P or S | CV800P or S |
| Motor Horsepower | 4.5 HP | 10 HP |
| Maximum Suction | 100 inches H2O | 110 inches H2O |
| Maximum Airflow | 195 CFM | 370 CFM |
| Vac Relief Valve Set | 90 inches H2O | 100 inches H2O |
| Mag. Motor Starter | Yes | Yes |
| Waste Capacity, Cu. Ft. | 7.9 | 7.9 |
| Full Load Watts | 2.6 kW | 6.4 kW |
| Voltage | 230 / 460 / 575 V | 230 / 460 / 575 V |
| Phase | 3 | 3 |
| Frequency | 60 | 60 |
| Weight (lb.) | 350 | 525 |