About Cary Manufacturing
Cary was honored with the prestigious US Dept. of Commerce Export Achievement Certificate for accomplishments in the global marketplace.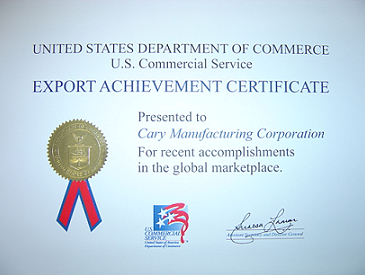 Cary Manufacturing Corporation was founded in February, 1980, as a manufacturer of the Cary rotating union, a rotary seal that conveys cooling/heating liquids to roll devices. Since 1982, the company has been a global distributor for the Fuji Regenerative Blower, also known as the Fuji Ring Compressor. Cary is a manufacturer representative for Fuji in both North and South Carolina. Cary is a Fuji authorized warranty/repair center and offers a full range of genuine Fuji spare parts to end users, OEMs, and dealers. Cary is also a CCR Registered Small Business. Cary also distributes the Elektror line of side-channel and turbo blowers. Elektror is a German based manufacturer that builds high pressure blowers for a variety of applications. Please inquire about your requirement for these high quality products.
Cary also manufacturers:
A wide range of accessories for the Fuji ring compressors including Fuji Regenerative Blower, Fuji valves, Fuji filters, and Fuji filter covers
Assembled reversing electrical starters and controls
Industrial vacuum/cleaning systems
Waste removal systems
Air knives and Blow-off systems
Cary Rotating Unions