Matrix Removal System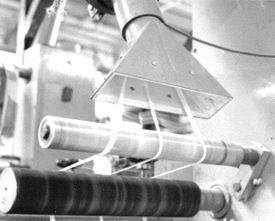 Features
Simple, reliable, trouble-free design
Easy installation by customer personnel
Mounting bracket and clamps included
Lube system for pressure-sensitive stock
Regenerative blower for air & vacuum
Muffler, filter, flow valve and safety valve
The Matrix Removal System reduces waste and increases productivity of narrow web label and converting presses by eliminating costly press stops for waste roll removal and by reducing tension-related matrix breaks during the run.
Operation
The aspirator is mounted on the matrix rewind shaft of the press and aligned with the matrix as it leaves the stripping roller.
The ring compressor generates strong airflow which is diverted in the aspirator to create powerful suction on the inlet side and a high-velocity air stream on the outlet side. As the pressure-sensitive matrix is pulled into the aspirator, it collapses and sticks to itself to form a rope of material which can travel easily through discharge tubing to an accumulating area or compactor.
The lubricant system (standard) assures that the matrix will not stick even if the compressor is shut off while the matrix is still in the discharge tubing. It consists of a storage reservoir, feed tube, drip regulator, site glass, and shutoff valve. This gravity-operated system feeds a controlled amount of vegetable oil to the aspirator where the fast-moving airflow disburses it, creating a slick coating throughout the entire system.
General Specifications

Model No.
Web Width
Speed
Application
MR250
up to 10"
500 fpm
p-s matrix / trim
MR300
10" - 16"
500 fpm
p-s matrix / trim
MR400
16" - 20"
500 fpm
p-s matrix / trim
Aspirator Specifications

Model No.
Inlet
Outlet
Nozzle
Length
Liner
MR250
2.5"
3.0"
2.5" x 7"
28"
Teflon
MR300
3.0"
4.0"
3" x 11"
33"
Teflon
MR400
4.0"
5.0"
4" x 11"
36"
Teflon
Blower Specifications

Model No.
HP
Vacuum
Airflow
Volts
Amps
MR250
4.5
98
206
230 / 460
12 / 6
MR300
10
110
388
230 / 460
23 / 12
MR400
20
110
570
230 / 460
44 / 22
Vacuum is in inches of H2O. All voltages are 3 phase 60 Hz.